MAB ARTS STUDIO & BOUTIQUE GALLERY
1335 Pemberton Avenue, North Vancouver
604 999 6177
E. mabventuresinc@gmail.com
HOURS OF CREATIVE OFFICE OPERATION
MONDAY - FRIDAY
9:00AM-5:00PM
SATURDAY & SUNDAY
11:00AM-4:00PM
We are closed on holidays.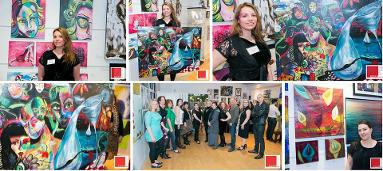 Monika Blichar is a North Vancouver, BC based visual artist and creative entrepreneur. Her works are collected in Canada, USA and Europe.
She works primarily in acrylics, mixed medias and also creates one of a kind jewellery pieces, accessories, cards, prints and wearable art.
Monika is a creative art heart and is responsible for a variety of artistic projects with the goals of bringing arts and culture to children, adults and the general public.
*****************************************
Monika Blichar is owner of MAB Ventures Inc. is an Arts and Entertainment Agency.
Special & VIP Events
Arts Programming & Education
Exhibitions
Custom Artwork
Artist Representation
Promotions & Design
We offer professional and experienced associates who will service all of your artistic needs. Whether you are in need of an original painting for your home or office, a forum to display your work, or are in search of a full service event planning team, our motivated and inspirational artists and entrepreneurs would be pleased to assist you with your every artistic vision and venture.